The resources on this page are for people who are currently receiving treatment or have finished treatment recently.  These resources aim to help you manage specific treatment side effects and symptoms.
It's highly recommended you start with the All Patients section first before selecting from each treatment options.

1. Surgery 
2. Radiotherapy
3. Chemotherapy and Systemic Therapy
4. Hormone Therapy (endocrine therapy) COMING SOON
Resources for ALL Patients
No two people have the exact same experience of breast cancer – your experience and your support needs are unique to you. These resources will help guide you in keeping well following your diagnosis and are appropriate for ALL patients, no-matter your treatment plan.

On this page: 
1. Exercise
2. Practical Support
3. Emotional and Social Wellbeing
4. Financial support
5. Clinical trials
6. Complementary therapy
1. Exercise  
If you have viewed the Preparing for Treatment page, you'll already be aware that movement and exercise is a fundamental part of your treatment plan.  Because there is so much evidence for the benefits of exercise during treatment, the Clinical Oncology Society of Australia states: "exercise should be prescribed as part of the routine cancer care".
"Based on what the science tells us, exercise is the best medicine people with cancer can take, in addition to their cancer treatments, to reverse treatment related side-effects, slow the progression of their cancer, increase quality of life and improve the chances of survival" – Clinical Oncology Society of Australia.
To view the minimum exercise recommendations for someone with cancer, take a look at the  'Moving through Cancer' factsheet.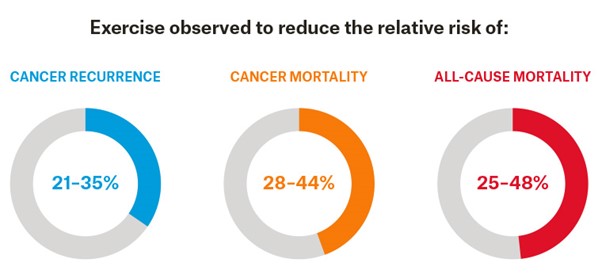 It is recommended that people with cancer are supported in the following ways: 
Exercise is a part of your treatment plan and is an accompaniment to other treatments. 

Prescribe exercise to all people with cancer

Refer patients to an exercise physiologist and/or physiotherapist with experience in cancer




care
At Westmead BCI we do this by participating in the Maple Tree Program. 
Maple Tree is a program in which people with a breast cancer diagnosis receive an 'Exercise Prescription' tailored to their individual needs. A specialized physiotherapist will conduct an assessment of your needs and goals and will provide a 12 week prescription with regular check ins.
This program is FREE and is recommended to begin at the beginning of treatment. 
Please contact the BCI Breast care nurses to be referred to the Maple Tree Program.
bci-breastcarenurses@health.nsw.gov.au 
For more exercise and movement resources, click HERE
2. Practical Support
CanDo APP
Do you need help but find it difficult to ask? Maybe you want to help but don't know how?
CanDo is a FREE app that is the bridge between people going through treatment for cancer and their team of willing helpers.
The CanDo app coordinates team and task management, without awkward conversations.
GATHER MY CREW APP
The Gather My Crew app links people who need help with their network of friends and family who want to help.
During tough times, people often say 'let me know what I can do' – but rarely is that offer turned into the support that is needed. That is where the Gather My Crew app comes in.
It is a simple and convenient way to organise transport, meals, help with the kids, social visits, grocery shopping or whatever else you need.
MUMMY'S WISH
Mummy's Wish helps manage the distressing burden of cancer on mums and their families by providing practical, tailored support during the entire treatment journey.Once they have received a completed registration (must be either from a GP, Nurse, Hospital Social Worker or Treating Specialist or a self-referral with accompanying documents) each mum is assigned a Support Coordinator who will work with them to navigate a practical pathway through cancer treatment.
3. Emotional and Social Wellbeing
OTIS FOUNDATION
National not for profit dedicated to providing access to a network of properties at no cost to anyone dealing with the challenges of breast cancer.
This time away will help guests to reduce the psychological impacts of breast cancer giving them time to rest, relax, reconnect with loved ones and create invaluable memories.
PINK FINNS
The Pink Finss Charity offers a range of programs and support for people diagnosed with breast cancer who live in the Hawkesbury.
Support Groups, oncology massage, practical help
BREAST CANCER NETWORK – MY JOURNEY
My Journey, accessible online or as a downloadable app, provides high quality, evidence-based information and insights from others diagnosed with breast cancer. It is easy to access via your computer, tablet or smartphone.
SO BRAVE
Australia's only young women's breast cancer charity
PODCAST: BOUNDARY SETTING
After a cancer diagnosis and treatment, you often discover you are not able to operate at the same level as you did pre-cancer, physically, cognitively and emotionally. Learn about how to identify your limits and act on them, communicate to others and ourselves, and how to identify alternative helpful activities and prioritise them. 
4. Financial Support
PRO-BONO SERVICES CANCER COUNCIL 
We can help you if you or someone in your family has cancer, and you need advice. Assistance is free for eligible clients.
Legal issues, financial planning, small business accounting, workplace (HR) issues and advice
OTIS FOUNDATION
National not for profit dedicated to providing access to a network of properties at no cost to anyone dealing with the challenges of breast cancer.
This time away will help guests to reduce the psychological impacts of breast cancer giving them time to rest, relax, reconnect with loved ones and create invaluable memories.
5. Breast Cancer Clinical Trials
If you have been diagnosed with breast cancer and are interested in finding out about clinical trials that may be open to you, you can ask your doctor if they know of a trial that might suit you.
Your doctor may also discuss clinical trials that may suit you during your treatment discussions.
WHAT IS A CLINICAL TRIAL?
BCNA Fact Sheet. Discusses the process, benefits, and risks.
BREAST CANCER TRIALS AUSTRALIA
Breast Cancer Trials is one of the world's leading breast cancer research organizations. Find trials that are currently open you may be interested in.
6. Complementary Therapy 
Westmead BCI supports the use of complementary therapies that are evidence based and proven to help manage your symptoms. We work in partnership with the NICM Health Research Institute at Westmead.
To find out more about Integrative Health and its role in breast cancer treatment, click on the links below:
Integrative Health Webcast – BCNA
COMPLEMENTARY THERAPY QUESTION CHECKLIST
You may find these questions helpful when thinking about what to ask your complementary therapist and doctor.
WESTERN SYDNEY INTEGRATIVE HEALTH MEDICAL CENTRE
An initiative of Western Sydney University's NICM Health Research Institute and Chinese Medicine Centre (in the area of Traditional Chinese Medicine), run by Next Practice.
Includes some subsidized services thanks to Dry July fundraising and group classes.
ABOUT HERBS APP
App to track over 290 herbs, botanicals, and supplements with purported benefits, side effects, drug interactions & more. Updated Weekly.
FIND AN ONCOLOGY MASSAGE THERAPIST
Simply enter your postcode to find a therapist registered with the Australian Institute of Oncology Massage