The information on this page will help you prepare and recover from Breast Surgery
These resources are appropriate for people who have recently had, or are going to have, surgery. This includes breast reconstruction.  Examples of breast surgery includes:
Lumpectomy or wide local excision

Sentinel node biopsy

Mastectomy

Axillary clearance or targeted axillary dissection

Mammoplasty (breast reduction and lift)

Implant reconstruction

Own tissue reconstruction
See BCI Factsheets: 'Breast Reconstruction' and 'Your Breast Cancer Operation'
Information on this page:
2. Recover from breast surgery
You may also be interested in: 
All Patients 
Radiotherapy
Chemotherapy and Systemic Therapy
Hormone Therapy (endocrine therapy) coming soon
1. Preparing for Surgery
POST OPERATIVE BRA – 'My Care Kit'
Your Breast Care Nurse may have ordered you a post surgical bra provided by the Breast Cancer Network Australia (BCNA). These are bras donated by Berlei to BCNA.
If they have run out of your size, they may have sent you a voucher with a code to order a FREE bra directly from the Berlei Website.
If your bra does not fit or is the wrong size, please contact BCNA directly to swap it for the correct size 1800 500 258
Preparing Your Home
PODCAST: HOW TO RECOVER FROM RECONSTRUCTION AND BREAST SURGERY
The Breast Cancer Network 'Upfront about cancer' podcast
PREPARING YOUR HOME ENVIRONMENT FOR YOUR RECOVERY (video)
Exercise
Please ensure you have also viewed the exercise resources on the 'Preparing for Treatment' Page
EXERCISES TO PREPARE SHOULDER AND DONOR SITE FOR SURGERY (video)
Best for women  having own tissue reconstruction, but safe for everyone to build strength
2. Recovery from Surgery
Community and Home Nursing
Most patients are able to manage their drains independently without any nursing support.
If you are not confident in managing your drains, you can request the nurses on the ward refer you to a community nurse before you are discharged.
If you were discharged home and a community nurse was not organized, or if you no-longer feel confident in managing your drain, you can self-refer to the Central Referral Service and request nursing support with your drain.
Central Referral Service: 1800 600 681 or website
Drain Care and Management 
print this PDF to write down how much comes out of your drain. Also includes step by step for emptying
HOW TO EMPTY YOUR DRAIN (video)
Exercise and Rehabilitation 
It is very important to participation in shoulder exercises soon after surgery.
Failure to participate in range of motion exercises in the immediate post operative stage may cause lymphedema, excess pain, excess swelling, wound breakdown, and in some cases shoulder and arm movement may never be completely regained or resolved.
Be guided by your Breast Care Nurse and Surgeons recommendations for what exercises to start and when.
Outpatient Breast Cancer Rehabilitation Services
Rehabilitation is important to reduce pain, fatigue, and weakness. They also help you manage lymphedema, the swelling that can be a side effect of breast cancer treatments.
The kind of rehab you get depends on your particular goals
Private Services – are often covered by private health insurance, even if you don't have hospital cover
Lakeview Hospital Breast Surgery Rehabilitation Program
Sydney Sports Rehabilitation – Castle Hill
Bounce Back from Breast Cancer (online)
Free Services
FAME Westmead Physiotherapy Department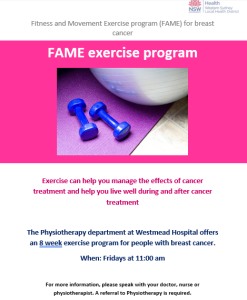 Scar Management

Depending on the type of surgery you had, you may a large surgical scar or a small surgical scar. Scar care is important in preventing chronic pain, and ensuring you have a good cosmetic result.
If you will also undergo radiotherapy, it is particularly important to manage your scar well because radiotherapy can cause skin and tissue changes to scar tissue that can cause long-term pain.
If you have a scar in a sensitive area such as your armpit, scar management will help prevent excess scar tissue and therefore reduce pain.
Be guided by your Breast Care Nurse and Surgeons recommendations for when to begin scar care.
Breast Prosthesis and Post Surgical Bras

A breast prosthesis should be fitted professionally and is safe to be used from 6-8 weeks post surgery.
Recommended stores to be fitted for post surgical bras or prosthesis: Heavenly Curves, Leila O'Toole, Debra's Penrith. 
TYPES OF BREAST PROSTHESIS 


There are many different types of breast prosthesis including for special use such as exercise and swimming!

CLAIM FORM FOR BREAST PROSTHESIS 


Medicare provide $400 every 2 years towards breast prosthesis. You can also claim the gap through private health as well if its covered by your fund.