At the Westmead Breast Centre, patients with suspected or proven breast cancer are seen by a multidisciplinary team. This means that you may be seen by several different doctors representing breast surgery, radiation and medical oncology, and a breast care nurse. The doctors caring for you will be a group of specialists and their teams. You may not necessarily be seen by the specialist each visit; however all members of the multidisciplinary team are trained in breast cancer care and work together to plan your treatment.
At your first visit to the Breast Centre, you will be required to be at the clinic for 3-4 hrs.
The length of time will vary depending on your situation;  we ask that you be patient because delays sometimes occur.
The following details are provided so that you know what to expect during the visit. Please note each of the various teams at the Breast Centre differ slightly in some aspects of care, such as time of day for follow-up appointments and waiting times.
What happens at my first visit?
When you are called to the consultation room, a doctor will take your medical history and perform a breast examination. You will also be seen by one of our specialist breast care nurses.
You will return to the waiting area whilst the multidisciplinary team meets to discuss all the new patients. This meeting, which is called a case conference, may last up to 1 ½ hours.
If your doctor feels you need further mammography, an ultrasound or a breast biopsy, this may be performed while you are waiting. The results may then be available to the doctor during or after the case conference.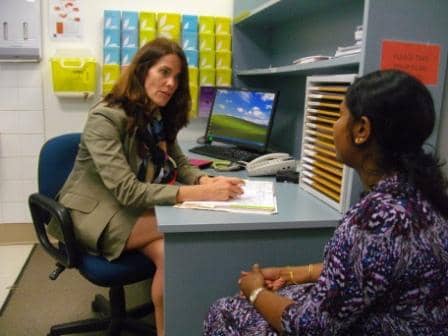 Doctor discussing medical history with patient
What happens during the case conference?
During the case conference, your findings will be discussed by your team. Your x-ray films will also be examined, and the best care plan for your situation will be developed based on latest evidence and research.
While the case conference is happening, you will be able to use the food and beverage outlets in the hospital or stay in the waiting room at the breast centre and use the coffee and tea making facilities
What happens after the case conference?
When the case conference has finished, you will be asked to return to the consultation room where a member of your team will speak to you about any further tests and or procedures that you need. If surgery is required, you may be given an operation date. A different doctor may be allocated to see you after the case conference. The length of time that you will have to wait depends on the availability of the doctor. We ask for your patience at this stage, because the demands on our individual doctors are quite unpredictable.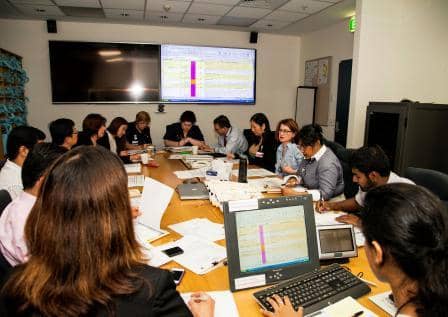 Reviewing and discussing individual cases at a case conference.
The Breast Cancer Institute participates in a number of clinical trials and research projects. You may be asked by the doctor or clinical trials nurse if you would like to participate in a clinical trial.
Before leaving, please return to the reception desk so that any further appointments can be made for you.
Where do I have my surgery/treatment?
The location of your treatment will depend upon your selection of hospital and waiting times. If you have private health insurance, you may select treatment, more often with the same team, in a private hospital. Please discuss this with your doctor.
Please note that in a public hospital, not all surgery will be performed by the specialist who you saw at your first visit. However, all treatment is carried out by trained members of their surgical team.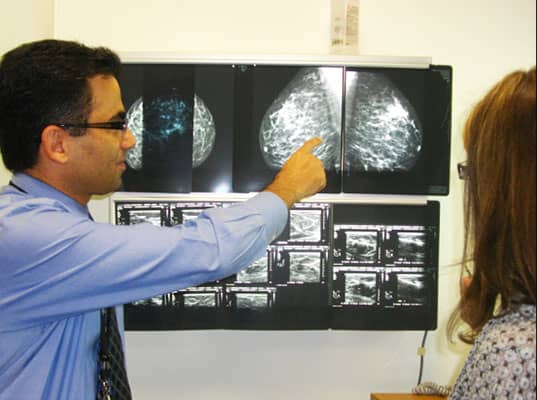 Mammograms are discussed during a case conference.
What happens after my first visit?
You will need to return for a second clinic visit after your surgery and to obtain the results from any further tests that we ordered during your initial visit. This visit could also take up to 2-3 hours.
A case conference will be held prior to your appointment.
Consultations are scheduled to commence immediately after the case conference.
After you have been called to the consultation room, you will be seen by the member of the multidisciplinary team who has bee assigned to you. Please be aware that because of time constraints, not all patients will be seen by the specialist during their consultation. This will not affect the quality of care that you receive  all cases are reviewed by at least three specialists during the multidisciplinary team case conference.
The team member assigned to you will provide you with information about your results and treatment plan options.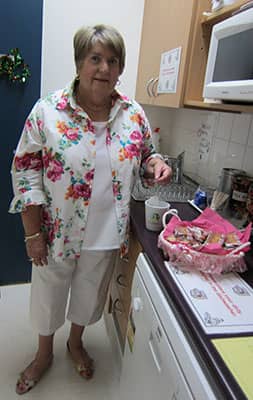 Our friendly volunteers are here to assist you.