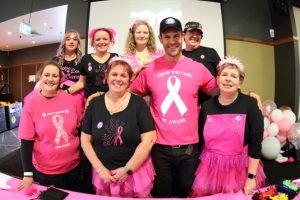 It was an overcast and rainy morning at the Ettamogah Hotel in Kellyville, but rays of bright pink rainbows appeared as motorcyclists and supporters turned up to the 18th Anniversary of the Sydney Pink Ribbon Motorcycle Ride's annual fundraising event on behalf of Westmead Breast Cancer Institute in its vision to support people with breast cancer today and every day!
Fiona Neill a breast cancer patient advocate represented the BCI at the colourful and exciting event and during the day shared her experiences with screening, assessment, diagnosis and treatment.  In particular Fiona told how happy she was to have had access to the 3D Vectra photographic equipment funded in previous years by the Pink Ribbon Ride   Fiona spoke about how taking "20mins for a free BreastScreen mammogram" helped save her life.  "Early detection is vital".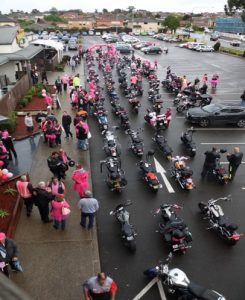 This year, funds raised by the many supporters of the Sydney Pink Ribbon Motorcycle ride contributed to the translation of BCI produced patient facts supplied free of charge to patients with breast cancer across Australia.  This year's funds are paying for translation of our BCI patient fact sheets for the high proportion of Western Sydney residents who speak a language other than English, in particular Arabic, Simplified Chinese, Korean, Persian, Turkish and Vietnamese.
Once completed in 2019 they will be able to view online under BCI Information > Fact Sheets.
Thank you for your support!