On Thursday 3rd October Westmead Breast Cancer Institute will hold a Mini Field of Women. Patients, family and friends are invited to pay tribute to those affected by breast cancer by writing a message to attach to the Pink Lady silhouettes and joining us for morning tea.
The Mini Field of women Pink Lady Silhouettes are kindly donated by Breast Cancer Network Australia. Please note that the Mini Field event is part of our October Best Breast Friends support group.
The Courtyard can be accessed by entering via the hospital main entrance and taking the lift down to level 1, OR by entering via BCI entrance, staying on level 1 and following the signs towards the main entrance.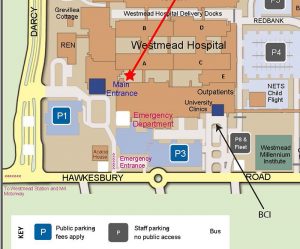 Download event information as a PDF.
If you are coming, please let us know by calling 8890 9682 or emailing bci-supportservicesinfo@health.nsw.gov.au